Welcome to Santa Teresa Cemetery and Cremation Services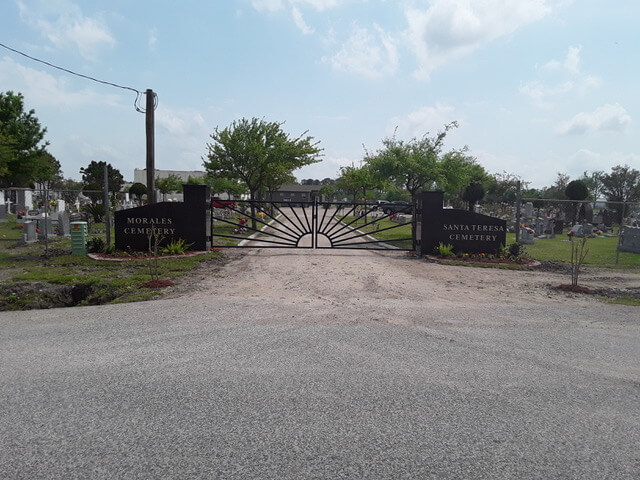 Welcome and thank you for visiting Santa Teresa Cemetery, where we are proud to be one of the top cemeteries to provide compassionate and professional burial services to the Hispanic and Latino populace of Houston.
Established in 2006 adjacent to the historical Morales Cemetery, Santa Teresa Cemetery is a PERPETUAL CARE CEMETERY established with the idea of providing reasonably priced services to all faiths and communities with dignity and respect. In addition to traditional In-Ground Burials, we offer a variety of other burial services, including – Mausoleum Entombment, Cremation Niches & Columbariums, and a full line of Monuments & Grave Markers.
Our qualified, Bi-Lingual Staff prepared to assist you with any services you may require, and we work with all Funeral Homes. Feel free to Contact Us with any questions or concerns you might have. We are conveniently located just East of the Northbound Hardy Toll Road on Buschong Street.

Santa Teresa Cemetery has trained compassionate bi-lingual Counselors available to answer any and all questions concerning plots and burial estates, whether we be of immediate need or for future use. We can assist you with pre-need burial arrangements to prevent your loved ones from having to worry about the details during a time of emotional turmoil or financial burdens
Our Staff
Cristina

4 Years Cemetery Experience...

Luz

3 Years Cemetery Experience...

Joe

44 Years Cemetery Experience...

Rosy

11 Years Cemetery Experience...

Norma

23 Years Cemetery Experience...
Emotional words about our services
Mrs. Norma was amazing! This whole process has been extremely emotional & very stressful but Mrs. Norma guided me through with unbelievable patience & consideration. She explained everything to me extremely thorough and put me at ease. I am blessed to have my family here now and because of her my husband and I will be purchasing spaces here. Thank You Morales & Santa Teresa Cemetery, I am very grateful for you and Mrs. Norma.

---

Delma Aguirre

Mrs Norma is really nice and she helps me out a lot. The people here are very friendly and nice

---

Alma L. DeLeon