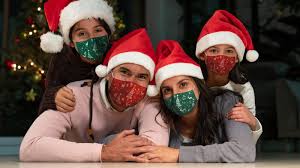 This year has brought all of us challenges that none of us could have ever predicted. What was initially a lockdown that would last maybe a few weeks at most has turned into an uncertain future. Though we are living in uncertain times, it is so important that we remain hopeful for a better future, and to know that we will get through this. The holidays usually come with a bag of mixed feelings for different people, but they can always be used as a time to focus on the good things in life.
In this holiday season, it is important to establish your own personal boundaries so that you feel comfortable and safe, and to ask yourself questions regarding those boundaries. Would you feel comfortable meeting with family members outside your household for the holidays? What if everyone was tested before the reunion? What if everyone wore a mask? Asking yourselves these questions can be helpful to determine what those boundaries are and to communicate clearly and kindly what those boundaries might be. Doing anything that steps out of what your own personal boundaries are can lead to resentment, a situation that is always best avoided, especially during the holiday season.
The holidays are often meant to be used as a time for fun, relaxation, and family. So why do they often end up feeling more stressful than anything else? The holidays can be an excellent time to reset. After an incredibly challenging year, it can be beneficial to use this time to try to take pressure off as best as you can. Find something to do that truly makes you happy, whether it be on your own, or in the company of others. It can also be fun to find things to bond over with the loved ones you do choose to spend time with this holiday season. Maybe there's a game that everyone enjoys playing or a movie that brings everyone together. As different as we all are, we as humans often end up having more in common than we realize, at times.
All in all, it has been a difficult year to say the least, but the turn of a new year can always bring feelings of a reset, and a much needed one at that. Positivity can be a powerful tool to propel such a reset, that there is a light at the end of the tunnel. Even with everything going on, the holidays can still be an exceptional time to reflect, reset, and to enter the new year with a positive attitude.